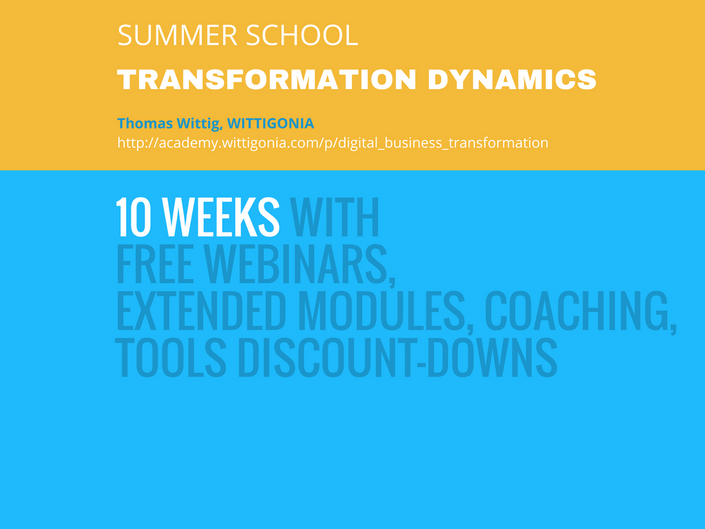 Digital and Business Transformation Dynamics
Insights & Key Concepts & Tools
This course is concluded now.
We had a great time!
The video briefings of the WITTIGONIA Digital and Business Transformation Dynamics Summer Academy have be watched by thousands of viewers.
Check out the videos on the WITTIGONIA YouTube Channel.
What is next?
Check out the new idea,- cast series. A great way to learn about strategies and tactics for digital and business transformation, innovation and growth.
And join the mailing list for announcements:
A new course with 10x opportunities:
This course runs over 10 weeks with 10 live webinars and 10 extended video briefings and 10 tools and templates and 10 coaching opportunities.
And the best part:
The awesome 10 week discount-down: In each live webinar we offer an awesome price promotion. We start with a 100% discount in the first webinar. So hurry and secure your seat at the best rate.
Join the free live webinar to receive a super discount. The initial course covers 10 weeks and we are offering a "Discount-down" with amazing deals. Only available in the live webinar.

Podcast
idea,- cast audio podcast episodes
The idea,- cast is now also available on popular podcast platforms such as Anchor, Spotify, Google Podcasts, Breaker, Stitcher and more.
Listening to the idea,- cast during your commute or gym work-out is a great way to stay up to date with new ideas, strategies and tactics. You can listen online and office, depending on your preferred podcast platform.
Course Curriculum
Welcome and introduction
Available in days
days after you enroll
Forum for Exchange, Sharing and Coaching
Available in days
days after you enroll
Insights Survey: Dynamics and Impact of Digital and Business Transformation Projects
Available in days
days after you enroll
Overview
How to plan, manage and optimize successful Transformation initiatives?
Business and Digital Transformation is a top priority for many organizations in the business and public sector. For many businesses it has become a matter of survival. Many companies have digital and transformation initiatives on the radar. Yet, many initiatives struggle or fail and companies are put at risk.
The leaders and project managers are confronted with a complex and dynamic challenge - in most cases on top of running the daily business.
This course provides in insights, ideas, and tools for managing the dynamics of transformation and change.
The course provides a pragmatic set of tools, templates and video briefings and covers the following aspects of the topics
Strategy leadership and project steering.
Product: Dynamics of new service, process and product development.
Organisation: Dynamics of organisation engagement and mobilization.
Market: Dynamics of growth and adoption of products in the market.
Customer Success: Engaging customers and ensuring active, satisfied users.
Supply chain: Dynamics of supply chains and producing, storing and delivering goods as well as sourcing of key resources.
A learning experience

This 10 week learning experience participants offers a learning experience with live sessions and extended content, tools and templates.
Weekly live webinars with Q&A.
Extended video briefings with dynamic simulation experiments, insights, ideas.
Tools and templates for download.
Group coaching in discussion forums.
A certificate of participation and completion.
Benefits:

Ideal for individual self-paced learning, for teams to get ready for the new budgeting and fiscal year planning round.
Participate at your time and pace. Can't make it to a weekly session? No worries, the replays will be provided.
Accelerate your learning experience. New to the job, no experience with transformation projects? No problem, learn and build up skills and expertise.
Advance system leadership. How make decisions and how to manage complexity and change over time? Learn from the simulation experiments how changes play out.
Build the plan. How to get started? Follow the learning road-map and build and complete your plan along the way.
Highly scaleable: Available as customized, private session for large organizations.
Engage your entire team. Roll-out the learning experience to your organization. Contact us for volume pricing options.
Participants:
This course applies to various situations and roles. You may find it particularly helpful in the following settings:
Designing, planning and leading a transformation initiative.
Managing digitalization projects.
Troubleshooting a change initiative and preparing a project turn-around.
Managing change.
Transforming

services into products
products into services

Moving from a legacy system to a SaaS (software-as-a-service) solution.
For executives, project managers and team this course provides insights and a new, different perspective: We will explore the topics from a system dynamics point of view.
Prerequisites:
Just be curious and open to learn. This course is a new addition to the series "Transformation Dynamics".
You may also want to explore the other courses in WITTIGONIA Online Academy which cover complementary topics such as the dynamics of viral adoption, viral marketing dynamics and Key Performance Indicators (KPI) for a service and SaaS business.
Elements of this course:
This course is like a "living book". We are using new tools and formats and adding new content based on feedback. The course typically includes
The weekly webinar. Introduction to the topic and new insights.
Short video briefings.
Simulation of changes over time. Learn how decisions, strategies and tactics play out over time.
Tools & Templates
Discussion forum for shared and group learning
Short surveys
The modules in the online course will be provided week by week.
At times we are also hosting a live seminars and meetups in select locations. Please check our website at WITTIGONIA Events

We are conducting open research and sometimes we are publishing results from a field study from WITTIGONIA Insights.
The objectives of this course
To provide concepts and tools to help you plan and manage transformation and digitalization initiatives.
To provide new ideas and insights how to proceed and how to optimize plans, projects and ongoing business.
To provide insights how strategies and tactics play out over time, using system dynamics models and simulation experiments.
To provide group coaching to answer your most pressing questions.
More information about related workshop seminars, content and services on www.wittigonia.com
Enjoy and spread the word!
Your Instructor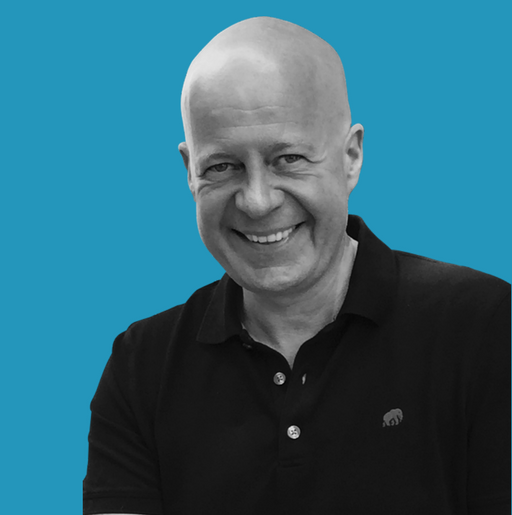 This program and briefing center is led by Thomas ("Tom") Wittig. Tom is an expert in innovation, transformation and growth with a special focus on the business dynamics. He has extensive experience in business leadership working with new businesses, projects and established large businesses. He developed expert knowledge in system dynamics.

During 28+ years in the IT and high-tech industry Tom worked with Microsoft, SAP, and a number of high-growth companies. Building, growing, and optimising customer base, platforms, ecosystems, communities a high-volume operations and services.
Currently Tom works with Enterprise, Startups, Investors, and international organisations as advisor and innovation partner.
Read more about Tom on https://wittigonia.net.
Join any time
This course runs in the "Summer School" from July - September 2017. You can join any time, choose and zoom in on the topic you like. The course material will be available for you for two months after the course finishes.
Get your Certificate
At the end of the course you can request a certificate of participation and completion. This is a great way to show your new skill set.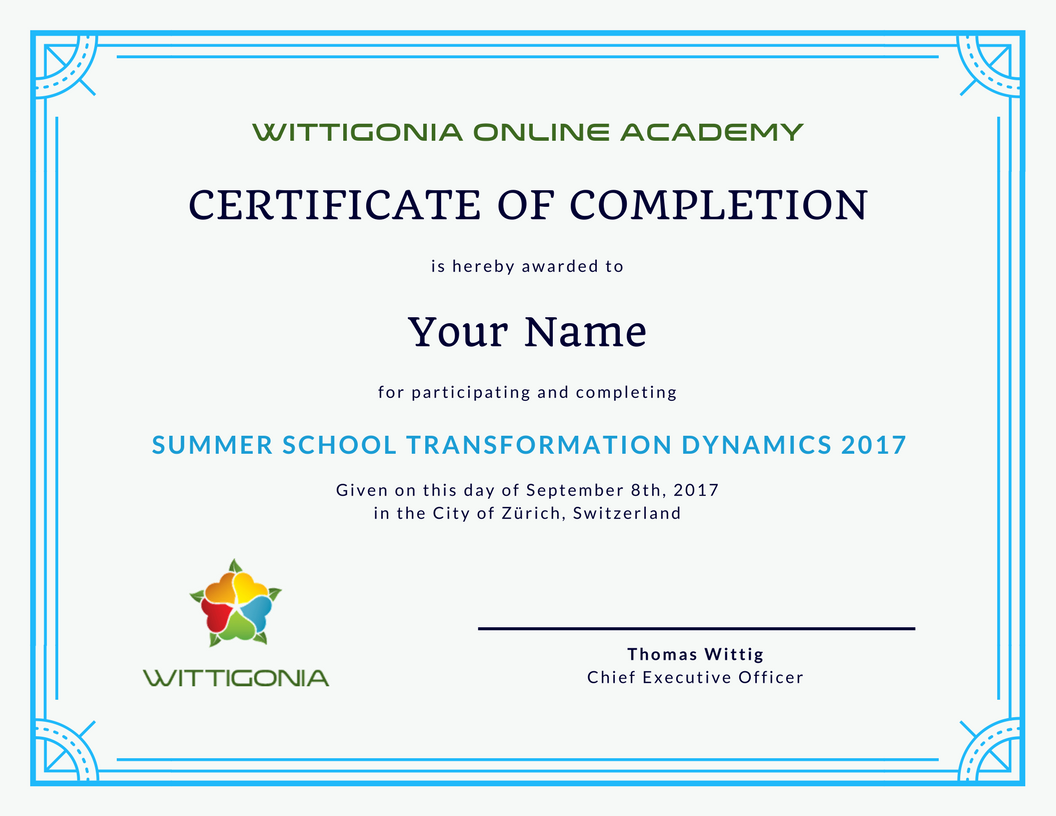 Courses Included with Purchase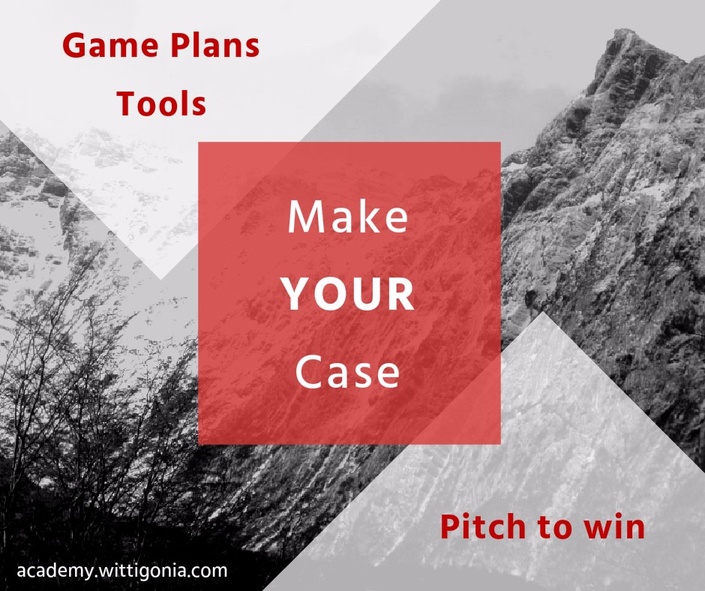 Make YOUR Case
Create your pitch and business case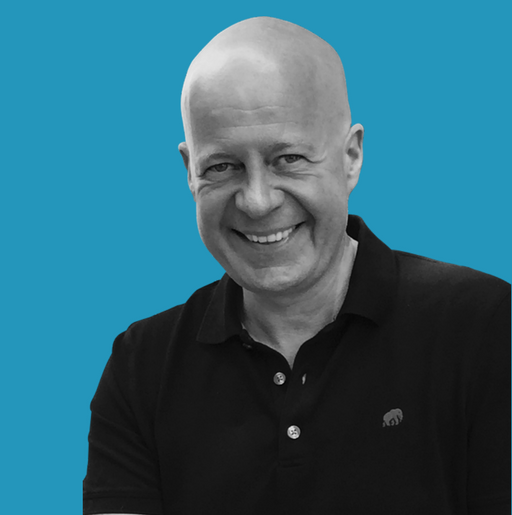 $50
Original Price: $50
Frequently Asked Questions
What if I am unhappy with the course?
We would never want you to be unhappy! If you are unsatisfied with your purchase, contact us in the first 30 days and we will give you a full refund. No questions asked.
Do you offer private courses?
Yes, we do. We offer private courses with additional features such as live coaching, individual coaching, group mentoring, discussion groups, and even on-site engagements. Please contact us at: [email protected]
What if I miss a live webinar?
No worries, the replay will be available here in the course and for webinar participants.
How often can I watch the session.
As often as you want during the course. The webinar replay will also be provided.
I loved the course and would like our company to make this available to my colleagues. Do you offer volume discounts for organisations?
Yes, we do. Please contact us by email to obtain further information and a custom quote. Contact: [email protected]
When does the course start and finish?
The course is open for participation now! Just join in. The weekly live webinars are fee and open. You can join the course anytime. It is a completely self-paced online course - you decide when you start and when you finish.
Loved the course! Could you provide a custom course for our company?
Yes, we can! The options include custom courses as well as a special group-learning exercise for your team or organisation. Let's talk about your specific requirements and what we can do. Please contact us at: [email protected]
From which devices can I access the material?
After enrolling, you have unlimited access to this course for the lifetime of the course as long as you like - across any and all devices you own..
How can I promote this course in my community? Do you have an affiliate program?
Good news: we offer a referral program for our active students and partners. You can participate (i.e. receive a share) for each student which signs up. Program terms and conditions apply. Contact us for details.
How long with the content be available.
After the 10 weeks there will be 1-2 weeks of bonus content with live sessions. After that the content will be available for another 2 months. (Until Oct 31st, 2017)
Do you have a Facebook community?
Yes, check out the curriculum. There you can find the information and link. Or go to https://www.facebook.com/DynamicsOfTransformation/
Do you have a YouTube channel?
Yes, check out: https://youtube.com/wittigonia
How is the content published? When are the modules available?
The course modules and content will be provided week-by-week. Once a module is published, you can access it for the remainder of the course.
Voices of previous participants:
"Filled with great insights and tips. Thank You!"
"This gave me some insights how to improve my plan and presentation"
"This course led us to redesign our digitalization strategy. It was at the right time!"
"Definitely useful and recommend for preparing a case. Coaching was very effective for us."
This course is closed for enrollment.